Classic Ring Toss (Boardwalk Style) Game Rental, NY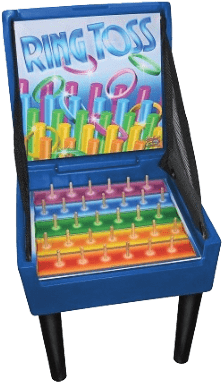 Classic Ring Toss (Boardwalk Style) Game Rental, NY
To speak with a representative
Classic Ring Toss (Boardwalk Style) Game Rental, NY
Step right up, folks! Test your skill and win a prize! Just three rings and you could be a winner! But watch out, it's not as easy as it looks. Only the best players can win! You got what it takes?
Test your toss, win a prize, at the Ring Toss! Don't be a tosser, give it a go, show 'em what you know! Just three rings and you'll be king, of the Ring Toss thing! You'll be on cloud nine, with your prize so fine.
Test kids aim with this bright ring toss carnival game and award different prizes (or candy) for each color! Is red, orange, green, blue or purple the most difficult? Only time will tell – it's harder than it looks! The ring toss carnival game comes with 12 rings to give everyone plenty of chances to ring in a victory! And the prize potential adds another element of excitement to the entertainment. This ring toss rental is a great addition to any party. Whether it's a family BBQ or a birthday carnival, it will keep kids captivated and coming back for more.
Stir up laughter and friendly competition with this ring toss rental from Clowns.com. And if you're looking for other New York carnival game rentals, we have those too! From the ring toss carnival game to "Down a Clown" to The Vault, we have everything you need for carnival party rentals across the entire New York service area – including Long Island, Brooklyn, Manhattan, Queens, Bronx, Staten Island and Westchester.
Hey there, folks! Step right up, don't be shy! Book a party with us and you'll fly high! It'll be a blast, a real gas, so don't be slow, pick up the phone and go, go, go! You won't regret it, in fact, you'll get a big benefit! So what are you waiting for? Book a party and score! 🎪🥳 Call 516-577-0000 now.
All kidding aside…
Clowns.com takes our party packages and party rentals very seriously. We understand that parties are important milestones in people's lives, and we do everything we can to make them special. We know that a party can be a momentous occasion, so we work hard to ensure that everything is perfect, from the initial estimate to the final entertainment. We're passionate about making people happy, and we take pride in creating memorable experiences
Ring in a victory with this ring toss carnival game!
BOOK YOUR CARNIVAL PARTY IN 3 SIMPLE STEPS
1
CHOOSE YOUR FAVORITE CARNIVAL GAME
KIDS ENTERTAINMENT PACKAGES
ALL PACKAGES INCLUDE THE FOLLOWING ACTIVITIES
1 Female Clown
and 1 Male Magician
Professional
Face Painting
Magic Show with
Bunny Fufu
Bubble Show
Singing & Dancing
Kids Music
Interactive Games
50 Free
Party Invitations