Hit the Bucket tabletop Carnival style game rental, NY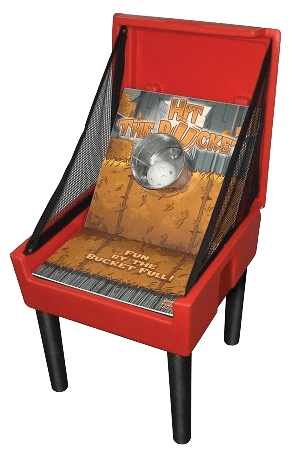 Hit the Bucket tabletop Carnival style game rental, NY
To speak with a representative
Hit the Bucket tabletop Carnival style game rental, NY
How hard is to hit the bucket? Featuring a tin bucket in the middle of bales of hay, this Hit the Bucket carnival game reminds us that simple doesn't always mean easy! Watch as players throw balls into the bucket – and then cheer for them to try again as the balls bounce right back out. This farm-themed game will amp up the competition for all of your party guests! Whether it's at a school fair or backyard birthday bash, this Hit the Bucket game rental in New York is sure to hit the mark!
Clowns.com offers the best New York carnival game rentals across the entire New York service area – including Long Island, Brooklyn, Manhattan, Queens, Bronx, Staten Island and Westchester. We also have carnival party packages – with clowns, magicians, bounce houses, music and more – to keep your party guests entertained along with this Hit the Bucket carnival game!
Let Clowns.com help you throw the most awesome Carnival bash ever! 🎪
How about a traditional carnival theme with a splash of something modern? Think bright colors, like red and white. Thinks fun carnival tents and classic carnival games like ring toss and can smash. See more carnival games here.
And let's not forget about the food! – We can bring the cotton candy machine, the hot dog cart and an ice cream machine
Perhaps you can make the funnel cakes, and all the fried treats you can dream of! Oh, and we can't forget the beverages – lemonade, soda, and maybe even a hot chocolate bar! 😋
Here are 48 more fun carnival ideas!
Call Clowns.com today at 516-577-0000 to plan the perfect carnival party!
Have a bucket of fun with Clowns.com!
BOOK YOUR CARNIVAL PARTY IN 3 SIMPLE STEPS
1
CHOOSE YOUR FAVORITE CARNIVAL GAME
KIDS ENTERTAINMENT PACKAGES
ALL PACKAGES INCLUDE THE FOLLOWING ACTIVITIES
1 Female Clown
and 1 Male Magician
Professional
Face Painting
Magic Show with
Live Rabbit
Bubble Show
Singing & Dancing
Kids Music
Interactive Games
50 Free
Party Invitations