Aladdin Themed Birthday Party, NY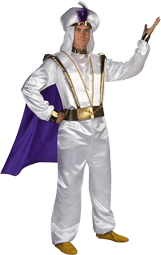 Aladdin Themed Birthday Party, NY
To speak with a representative
An Aladdin-themed party at your NY location is the ultimate Enchanting adventure for any birthday!
Do you want a fairytale party that will whisk you and your guests away to a world of magic and wonder?
If so, you don't really need a magic lamp or a flying carpet – just a professional Clowns.com Aladdin character for rent.
We'll bring the magic of Aladdin to life with our talented entertainers and immersive interactive entertainment and activities.
Together, let's create a magical, Aladdin-themed party that will make all of your child's wishes (and party guests) come true.
In the fairy tale, Aladdin is a destitute young boy who falls in love with Princess Jasmine. With the guidance of a enchanted genie, he gets a chance to win her heart and validate that he's worthy of being a prince.
It's a great story about love, adventure, and following your heart.
And of course, there's plenty of catchy songs and amazing visuals, too! Some of which we will bring to your event.
When it comes to character and exciting themed party entertainment, we do not cut corners.
We ensure that our Aladdin look-alike performer not only looks the part with high-quality costumes and props, but is also talented, experienced, and has the ability to communicate, play and interact with children.
With Clowns.com, you can be sure you're getting the highest-quality character experience!
We can promise you that our Aladdin character will make your event unforgettable.
With the wave of a magic wand, we'll bring the magic of Agrabah to life! So, what are you waiting for?
All parties include a female clown, a male magician, a live fully immersive magic show with rabbit, balloon twisting, music, dancing, singing, fun interactive games, and Perry tattoos, her face painting, free party invitations and a magical crowning ceremony!
See all of our kids party entertainment packages.
Call 516-577-0000 to plan your next event today!
BOOK YOUR CHARACTER PARTY IN 4 SIMPLE STEPS
1
Choose Your

Favorite Character
2
Choose Number

of Children
3
Choose Amount of

Entertainment Time
KIDS ENTERTAINMENT PACKAGES
ALL PACKAGES INCLUDE THE FOLLOWING ACTIVITIES
1 Female Clown
and 1 Male Magician
Professional
Face Painting
Magic Show with
Live Rabbit
Bubble Show
Singing & Dancing
Kids Music
Interactive Games
50 Free
Party Invitations