Black Widow Character Rental, NY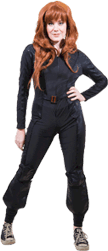 Black Widow Character Rental, NY
To speak with a representative
A Black Widow costume character is an excellent choice for a party in NY!
The Black Widow superhero character is most well-known for her appearance in the Marvel Cinematic Universe, where she's portrayed by Scarlett Johansson.
The character was born in the Soviet Union and was trained as a spy and assassin from an early age. She eventually defected from the Soviet Union and became a member of the Avengers.
Our Black Widow character actor is fierce, strong, and resourceful, so she's sure to add some excitement and energy to your party. Plus, her sleek black suit and red hair will stand out from the crowd and make for some great photo opportunities with your guests.
And of course, who doesn't love a superhero? 😉 Plus, Black Widow is a somewhat complex character, and it would be fun to explore her backstory and motivations with party guests. 🤓
Black Widow has some incredible moves and could lead kids in fun superhero training exercises.
All of our costume characters, including our superheroes, are played by professional actors and entertainers. They're trained to bring each character to life and engage with the audience. They're also trained to be safe and to interact appropriately with kids of all ages.
Our staff is passionate about what they do, and they love bringing joy and wonder to kids and adults alike.
Our costumes are high-quality and look great, so you can be sure your event will look amazing.
Don't forget to invite the Black Panther!
Other available superheros include:
Super Girl, Wonder Woman, Bat Girl, Spider Girl, Batman, and the Hulk among others.
See all superheroes!
Also see our selection of costume characters, inflatable jump houses, and inflatables games for rent.
With Clowns.com, when you combine great costumes with great people, you get an unforgettable experience!
Call today to speak with a representative. 516-577-0000.
BOOK YOUR CHARACTER PARTY IN 4 SIMPLE STEPS
1
Choose Your

Favorite Character
2
Choose Number

of Children
3
Choose Amount of

Entertainment Time
KIDS ENTERTAINMENT PACKAGES
ALL PACKAGES INCLUDE THE FOLLOWING ACTIVITIES
1 Female Clown
and 1 Male Magician
Professional
Face Painting
Magic Show with
Live Rabbit
Bubble Show
Singing & Dancing
Kids Music
Interactive Games
50 Free
Party Invitations