Top Doc Magnetic Operation Carnival Themed Game Rental, NY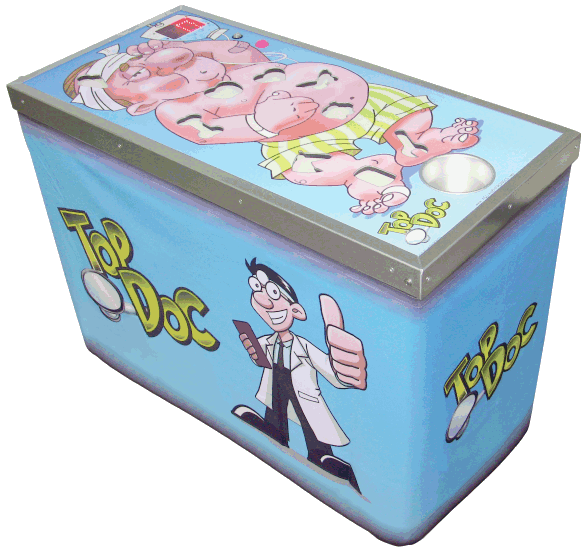 Top Doc Magnetic Operation Carnival Themed Game Rental, NY
To speak with a representative
Top Doc Magnetic Operation Carnival Themed Game Rental, NY
Bring "Operation" to life with this Top Doc table game for rent in NY and find out who has surgeon skills at your party. This New York interactive game rental adds a twist on the classic board game and increases the fun! Set on a 4-foot table, Top Doc includes an electromagnet wand that picks up the pieces – but when the wand hits the side, the piece drops, and a beep is triggered with a bright light. This NY Top Doc game rental incorporates a party crowd by recording each mistake on a large 3-inch LED display.
Will surgery be a success or a hilarious failure? This New York interactive game rental will add excitement to any party or event! Watch as kids delight in the competition and adults struggle with laughter. The Top Doc game for rent in NY will keep everyone busy! Along with the NY Top Doc game rental, Clowns.com has a wealth of interactive, arcade and carnival game rentals available across the entire New York service area – including Long Island, Brooklyn, Manhattan, Queens, Bronx, Staten Island and Westchester.
Clowns.com wants to have the chance to prove to you that we can be your entertainment company of choice for an incredibly fun and unforgettable party experience! We've been specializing in kids' birthday parties and events for over 15 years and we offers a wide range of entertainment options.We also have a very diverse selection of unique party rentals like our donut making machine and our New York style Nacho and cheese machine!
Clowns.com understands the importance of personalization and attention to detail. We will work closely with you (our valued client) to understand your specific event requirements, including venue size, age range of your guests, any special requirements that you may have, and the length of your event. Based on those factors, Clowns.com will create a customized entertainment plan that maximizes engagement and excitement for all participants.
Whether it's incorporating specific games, designing unique party activities, or aligning the entertainment with a specific theme, Clowns.com will go above and beyond to customize every aspect of your event with you. Our team of professional performers are highly skilled at adapting to different event settings and audience demographics, ensuring that each event is a memorable and enjoyable experience for everyone involved.
Call today for more information. 516-577-0000.
Test skills and increase laughter with this interactive game!
BOOK YOUR PARTY IN 3 SIMPLE STEPS
1
CHOOSE YOUR FAVORITE GAME
KIDS ENTERTAINMENT PACKAGES
ALL PACKAGES INCLUDE THE FOLLOWING ACTIVITIES
1 Female Clown
and 1 Male Magician
Professional
Face Painting
Magic Show with
Live Rabbit
Bubble Show
Singing & Dancing
Kids Music
Interactive Games
50 Free
Party Invitations