Hulk Themed Party Mascot Character Rental, NY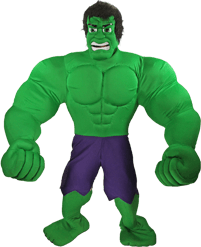 Hulk Themed Party Mascot Character Rental, NY
To speak with a representative
Let's smash an Incredible Hulk theme party, where guests can flex their muscles and unleash their inner rage! | Call Clowns.com @ 516-577-0000 to book today!
The Clowns.com Hulk superhero themed parties are so great because they're fully immersive, engaging, and of course, they're tons of fun!
Our accomplished performers really get into character and bring the Hulk to life with their costumes, activities, engaging activities, fun-filled antics, and overall performance.
Our entertainers will fully embody the Hulk, from the tips of their green-painted fingernails to the green fur on their costumes.
They'll lead games, face painting, and other activities that will transport your guests to the world of the Hulk. Plus, our parties are completely customizable, so you can tailor them to your needs and preferences. We want to make sure your party is as unique as the Hulk himself!
A Hulk themed party can be a fun and exciting way to celebrate a special occasion like a birthday party, summer camp activity company teambuilding event, or even a bachelor or bachelorette party!
A Hulk themed party is the ultimate excuse (and escape) for your birthday child (or other attendees) to flex their green muscles and channel their true inner superhero.
Also, the decor possibilities are endless, from green streamers and balloons to cutouts of the Hulk himself!
Clowns.com can help you to customize a complete Hulk superhero party from top to bottom. From decorations, inventive games and/or any creative ideas that you may have!
Other famous available Marvel look-alike characters include:
Our Spider Man character rental is very popular with kids of all ages!
Captain America, Black Panther, Black Widow or an Ironman birthday party would be a special surprise that no kid could refuse!
See all Superhero party characters.
We also have a wide range of bounce house options to fit any themed celebration. Our vast selection of inflatable themes means you can find the perfect match for your party, whether it's Disney, superheroes, cartoons, or other popular characters.
Clowns.com can customize any type of party suited to your needs. Just give us a call at 516-577-0000 and let our staff know what you have in mind. Our team of trained professionals will do everything in our power to make your party visions come true!
BOOK YOUR CHARACTER PARTY IN 4 SIMPLE STEPS
1
Choose Your

Favorite Character
2
Choose Number

of Children
3
Choose Amount of

Entertainment Time
KIDS ENTERTAINMENT PACKAGES
ALL PACKAGES INCLUDE THE FOLLOWING ACTIVITIES
1 Female Clown
and 1 Male Magician
Professional
Face Painting
Magic Show with
Live Rabbit
Bubble Show
Singing & Dancing
Kids Music
Interactive Games
50 Free
Party Invitations